Heist Party – Grand Theft Antimatter
:
:
:
:
:
:
Theme
:
Military
Positives
Fun to play at-home and really reasonably priced!
Negatives
Figuring out how to play is a little confusing initially.
Bottom Line
I love the idea of escape games for people who can't afford to go out to a room, don't live near one, or who are just looking for something more low key.
Posted October 25, 2016 by
admin
As an avid fan of game nights with friends and family I was pretty excited to review another at-home escape game. I love the idea of escape games for people who can't afford to go out to a room, don't live near one, or who are just looking for something more low key.
The setup wasn't too hard. When you order the game it's sent to you via e-mail. There's a few different files including a customizable option which is neat so you can alter puzzles for re-use or integrate real world locks and things. Wanting to get the full experience and not have any spoilers I chose to print out the unaltered card set.
The cards come in a 4×6 format and are supposed to be printed on matte not glossy paper. I found a deal online for Walgreens and printed the 60-something card set for less than $10. I had to pick glossy paper for in-store pickup, but after also grabbing some fine tip sharpie markers it wasn't a problem at all.
I would love to see a pre-printed version that can be shipped to your home for those of us who are lazy. I think the on demand option is also great because it makes it easy enough to do with only a day or two's notice.
With the cards printed we were ready to go and I debriefed the team on our mission:
"The United World Government has almost finished building their Warhead Antimatter Response (W.A.R) facility. The Heist Crew cannot let that happen."
I would say we spent the first 10-15 minutes wondering if we were doing the right thing, and if we had set things up correctly. The language on the website versus what's on the cards can vary a little so we were confused at first. There are puzzle cards and also solution cards. The solution cards are color coded and once we figured that out things became much easier. Also under no circumstances should you drop your cards or get them out of order after printing. It would be disastrous. The initial learning curve can be a little steep, I'd love if there was a "warm-up" puzzle and solution set before the real timer starts just so players understand the gist of what to do and how this particular game system works.
The puzzles themselves were pretty clever for being paper based. In general the instructions were just clear enough to tell us what we needed to do without giving too much away, with the exception of the paper-folding puzzle. My group was really familiar with origami instructions and we still had one hell of a time figuring that one out. The
Heist Party website
offers cool story intros to each part of the mission and also clues if you need them that are hidden behind click-able spoiler blockers. We ended up having to use the clues for the paper-folding puzzle and took a time penalty.
In the end we beat the mission with 18 minutes and 24 seconds left (including our deducted 5 minute penalty for the clue).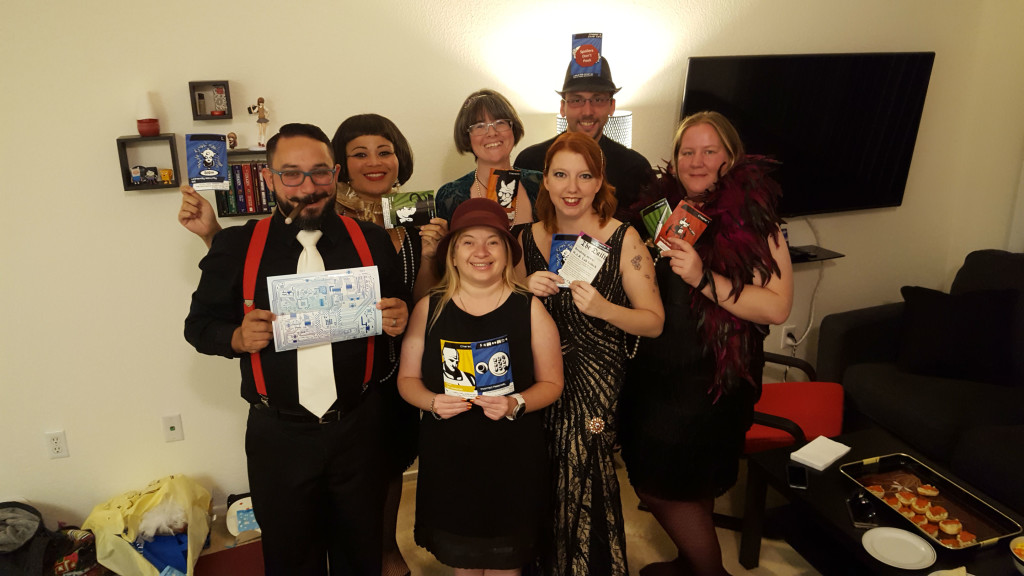 The group is victorious and also dressed up for a 1920's murder mystery we did before busting out Heist Party.
Something to note is that the website says 2-6 players and we did it with 8. In the beginning everyone selects a character card, but they don't play a major role in the game play so it was fine that we had extra players. If you play with less people you'll probably get closer to the 60-minute time limit allotted for completing the mission.
Overall we had a lot of fun with this one. I still really like the at-home escape concept and I think Heist Party has a good formula for it. I'd love to see different games and difficulty ratings on them. If you're looking for an awesome night in you can get your own copy of Grand Theft Antimatter here: 
heistparty.com
Puzzle Types: WARNING POTENTIAL SPOILERS highlight the text in the black box below to view.
Anagram, Math, Folding, Mazes, Pattern Recognition
The Room Escapist received a free copy of Heist Party in exchange for a free and honest review.